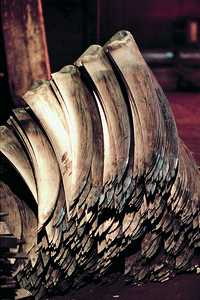 134. One of the most important product ranges of Patricio Echeverria was farming tools. The picture shows some scythes.
The business grew and spread beyond the area of Legazpi. In 1940 a new file-making plant was opened in Idiazabal, and thirty years later a handle-making plant followed in Olloki (Navarra). In 1978 the firm crossed the Atlantic to set up a factory in Venezuela, followed in 1987 by another in Colombia and one in Mexico in 1992.
The days of the small workshop in the Urola valley were long over and a new industrial complex had been created which required a new and more complex organisation. At the beginning of the 1990s the firm's various industrial activities were split between different companies. The Corporación Patricio Echeverría S.A. was divided into Patricio Echeverría Aceros S.A., Patricio Echeverría Forja S.A., Bellota Herramientas S.A. and Inversiones S.A. In 1993 the Siderúrgico Vasco group was formed, in which the corporation has a 17% shareholding (HERRERAS, ZALDUA, 1997).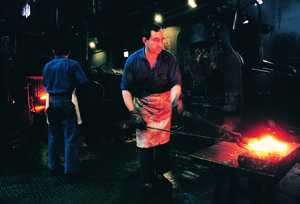 131. Forging workshop.
From a workforce of around a dozen in its initial years, Patricio Echeverría has grown to employ over three thousand people, including 85% of the entire workforce of Legazpi. Indeed, this nucleus in the Urola valley owes much of its present urban layout to the industrial giant. The factory facilities alone stretch for over two kilometres and numerous houses have grown up around them since the 1940s. The district of San Ignacio, with more than a hundred homes, was followed by Arantzazu and San José. The company's welfare policy also extends to education, and it has helped to finance the construction of a number of schools, including the Buen Pastor school for boys and the Santa Teresa school for girls. The Santa Cruz home for the sick and elderly, medical centres such as the dispensary for fighting tuberculosis and for diseases of the thorax, and the cooperative store are other examples of the prolific social work of Patricio Echeverría and the impact the company has had on the town.