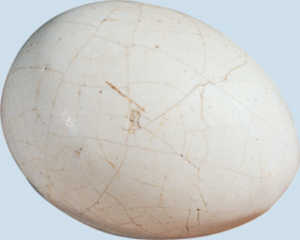 97. Decoy egg, placed in hens' nests to encourage them to lay.© Xabi Otero
Juan Quende, mentioned earlier in this book, came to Azkoitia with his wife, Maria Laminario, and his son Xavier, who had been born in Urantzia (Navarre), where there were also potteries. He married Josepha Arambendia (or Aramendia or Aramendi according to other documents), who was from Lizarra. Xabier died in Azkoitia in 1814 at the age of 86. We have no definite evidence that this Quende was a potter; nor that his son, Joseph Antonio Quende Arambendia (born in 1769 in Azkoitia, married to Josepha Manuel de Larrañaga, also from Azkoitia) followed the trade. But we must presume that they were, since Juan Joseph and Diego Quende Larrañaga, children of his first marriage, born in 1805 and 1807 respectively, were both potters. They were, therefore, the great grandsons of the first Quende to come to Azkoitia.
Juan Joseph Quende Larrañaga, who had married Fernanda Larrañaga, from Azkoitia, moved to Azpeitia before 1844, where he is mentioned as a potter. He may have worked in a pottery in Azpeitia. We have no record of whether his descendants kept up the trade.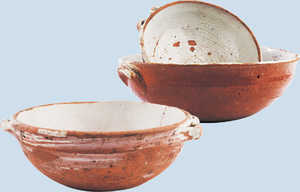 98. Dishes for miscellaneous uses.© Jose López
Diego Quende Larrañaga, brother-as we have said-of Juan Joseph, stayed in Azkoitia, where he married Josefa Antunia Arteche. Again, we have no evidence that his descendants were potters. One of his daughters, Ignacia Arteche married the organist, Juan María Echániz.
On 25 February 1877, one Jose Agustín Quende, listed as a potter, acted as godfather to a daughter of the aforementioned heritage, Maria Rosario Echania Quende, but we do not know what his relationship was with the other Quendes. What does seem certain is that there were clay works in Azkoitia practically until the end of the nineteenth century.